Langage AD : Fifth AD plant to attain end of waste standard.
Posted: 23 May, 2012. Written by Ciaran Burns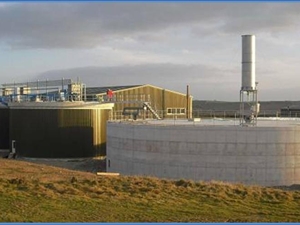 On the 10th May Langage AD became the fifth Anaerobic Digestion (AD) plant in the UK to become certified under the Biofertiliser Certification Scheme. The facility at Langage, designed by Finsterwalder Umwelttechnik GmbH, is situated in Devon within the South Hams District and has been processing food waste since July 2011. The AD plant is backed by the Waste and Resource Action Programme (WRAP) and received a grant with the aim of encourging the uptake of AD technology in the UK. Heat and electricity is utilised onsite by Langage Farm Dairy Products with excess electricity exported to the grid, while the biofertiliser is in used by farmers locally.
Working together with experts from Plymouth University through a Knowledge Transfer Partnership, Langage AD has now been operating for over a year and has in this time worked hard towards meeting the ADQP the PAS110 standards. The purpose of these standards is to ensure the biofertiliser produced is to a high quality and can be used to the benefit of the land it is applied. A further benefit is that digestate that is certified to the ADQP and PAS110 is no longer classed as a waste and can bedispatched as a product. This means that waste regulations no longer apply to the material which is both of economic benefit and for marketing the biofertiliser to local farmers. #also the material processed on site is regarded as recycled material
.
John Deane, Environmental Resource Manager for Langage AD comments; "This month has been our best to date, especially with the attainment of the ADQP and PAS110 standards; it's a real success for us, and tangible benefits will be passed on to our local farming community"
Langage AD is licenced to process 20,000 tonnes of food waste per year and will generate in excess of 3,904 MW of electricity through the course of a year. This will in turn show significant carbon savings for all farmers using the Biofertiliser, and companies alike who dispose of their waste at the facility.